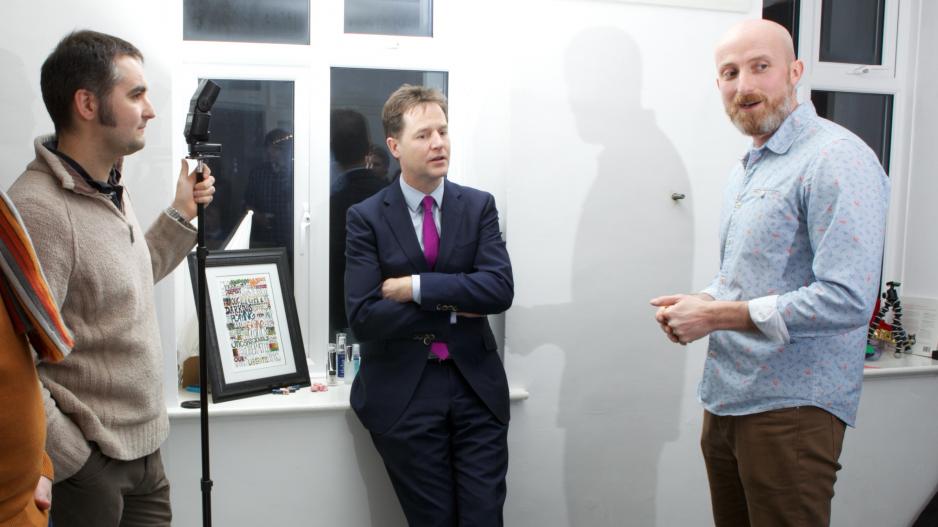 The Deputy Prime Minister visits Lupimedia
James Ovenden,from Lupimedia in Yeovil, became the host for Nick Clegg , our Deputy Prime Minister a few days ago.
 
It was a fantastic opportunity for us as a business to meet with Nick Clegg and David Laws again. We have been thrilled with the outcomes of having super fast broad band installed here in the town centre. It was great to share with Nick Clegg how it has allowed us to work at a much greater speed and has improved our quality of service, which is invaluable to us. 
We were also able to introduce some of our valued customers and co workers too, including Ed from What I Do Best,  Ricky Jackson from Reproduction Furniture and Ian Pitchford from The Adventure Education Trust.
 
As well as faster broad band, Lupimedia has also benefitted from the apprenticeship scheme and was great to share this experience with the DPM. We value each member of our staff and we have been very lucky to welcome some fantastic apprentices to our business over the years. Nick Clegg was pleased to hear that it is such a valuable program for our company. James at Lupimedia feels passionate that being a part of a business from the off, sets the individual up for a far more successful career. Giving them the true experience of working within the industry and working as a team as well as learning the most up to date methods.
 
This has been a great start for everyone at Lupimedia and we cannot wait for what the rest of 2015 brings!